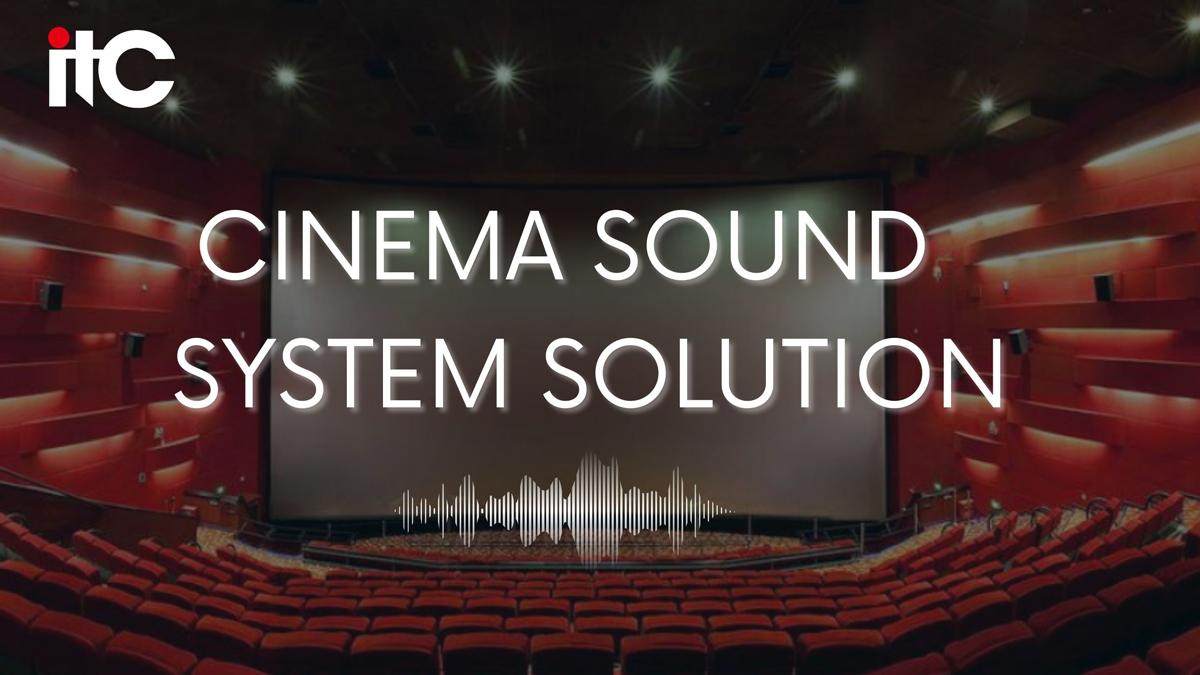 Cinema is a place where movies are shown to the audience. Cinemas must meet the technical requirements of film projection and have good visual and auditory effects. The cinema shall have a professional sound return system. Like the auditorium of other performance buildings, the auditorium of cinema should avoid the conditions of various acoustic defects such as echo, vibrating echo, sound focusing, coupling effect and so on. Therefore, a sound reinforcement system specially designed for cinemas needs to be matched to meet the needs of all kinds of films.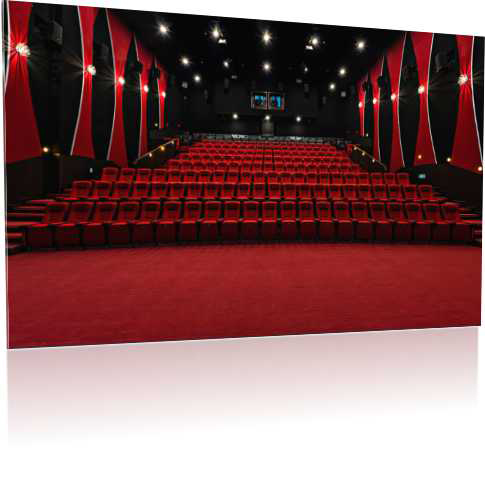 The Cinema Features:
1. The video and audio of commercial cinemas are provided by the cinema line server. The audio is sent to each channel power amplifier, and then the power amplifier is sent to the speaker to restore the sound;
2. The sound of the cinema is restored from the soundtrack of the film, so it is not necessary to rely on the acoustic conditions of the auditorium to change the original tone, but only to comply with the acoustic frequency response characteristics of the mixed recording studio, so as to truthfully restore the original sound on the soundtrack of the film;
3. The sound return system adopts Dolby panoramic sound 7.2.4 channel to amplify the sound of the film, which meets Dolby panoramic sound standard and Dolby laboratory standard.
Dolby Panoramic Sound: There are strict requirements for the point position of the speaker according to the height, and multi-track analysis is carried out for the same sound channel. For example, multiple speakers on one side make different sounds one by one to create a sound effect from far to near, realize the sense of on-site encirclement, and feel the restoration of sound immersively.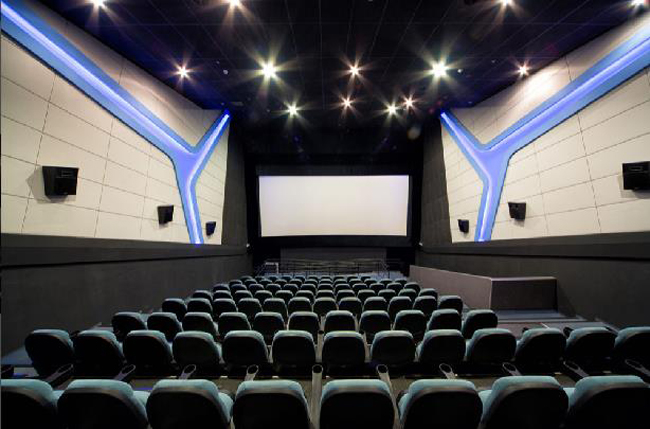 According to the overall structure of the viewing hall and the requirements for the installation position of speakers, we have formulated the following implementation scheme:
* The left, middle and right channel speakers are designed with three special horn speakers for cinemas, which are set behind the screen, the installation height is 2 / 3 of the screen height, and the sound radiation axis points vertically to the last row of the auditorium, which is 1.15m away from the ground.
* The three-dimensional surround speaker design is set on the back wall and side wall of the auditorium. One speaker (about 2.7m) is set every other row from the first row.The wall hanging height is 70 ~ 90cm away from the human ear. 
* The sound radiation axis of the side wall speaker vertically points to the position where the opposite seat is 1.15m away from the ground, and the sound radiation axis of the back wall speaker vertically points to the position where the front seat is 1.15m away from the ground. The ultra-low frequency speaker is designed to be set on the ground on either side of the middle speaker behind the screen.
ITC Cinema Speaker: KF-Y Series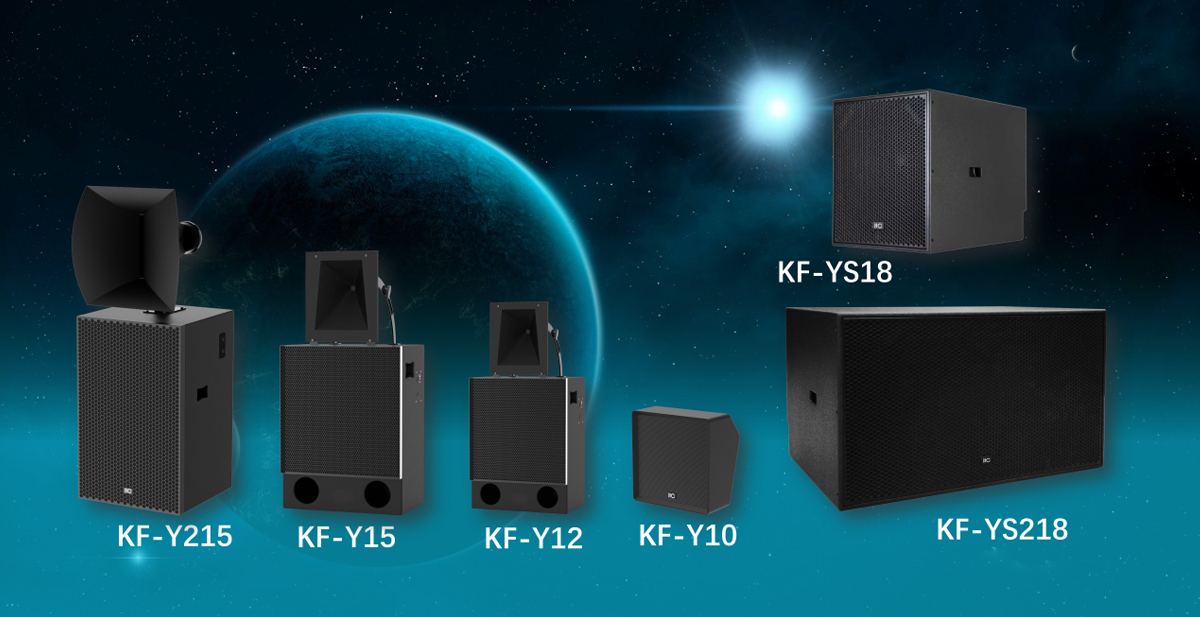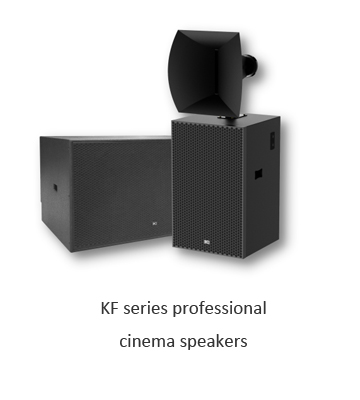 HD sound quality restores the original sound of the movie
* Independent horn unit with adjustable pointing angle
* Accurate frequency division design perfectly reproduces the expressiveness of medium frequency band
Perfect bass immersive experience
* Low distortion waveguide technology ensures high definition of film dialogue
* Full frequency speaker low-frequency dive to 40Hz
* Subwoofer low-frequency dive to 33hzIt is used in various types of cinemas and various high-end audio-visual application places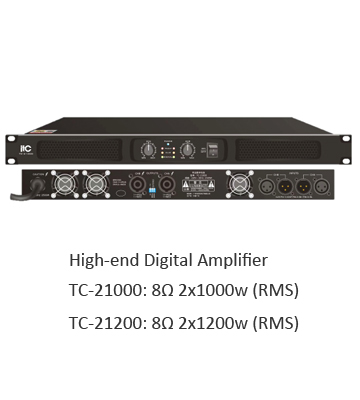 Efficient, stable, excellent sound quality
* Variable oscillation modulation technology
* Multiple feedback control technology
* Innovative output power control technologyMore than 95% ultra-high efficiencyDistortion less than 0.01% 1U, small size, high power