Project Picture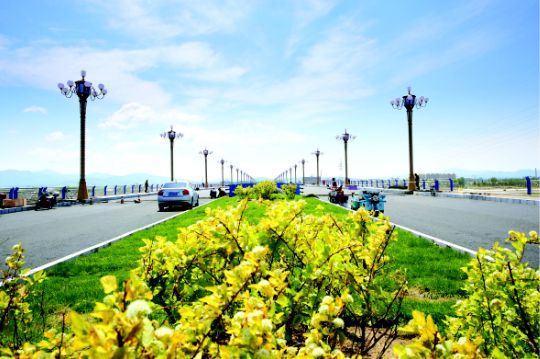 Hunchun city is located in the eastern end of Jilin province, downstream of the Tumen river, and belonging to Yanbian Korean autonomous prefecture. It is the only border window city in China that is located at the border of China, Russia, and the North Korea. It is connected with Russia and North Korea, and faces South Korea and Japan across the sea. With Hunchun as the center, there are many natural and ice-free ports in Russia and North Korea.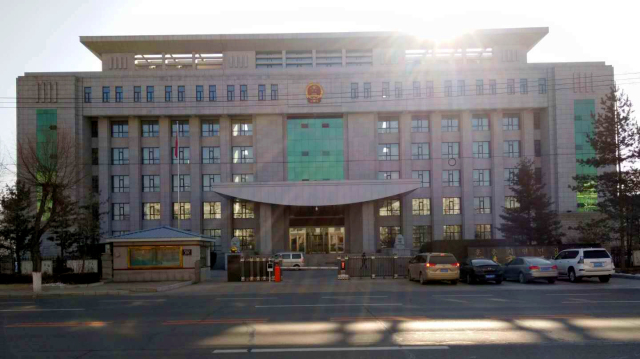 People's Procuratorate of Hunchun City continuously strengthened the standardized management of public prosecution work in recent years. By standardizing the operational mechanism of public prosecution, improving the quality assurance system of public prosecution cases and strengthening the supervision mechanism of criminal litigation, the Procuratorate has achieved no acquittal, no withdrawal of case and no extended detentions. In order to give full play to the functional role of the procuratorial organs in maintaining political stability, promoting economic development, and promoting social harmony, People's Procuratorate of Hunchun City took effective measures to provide more powerful judicial guarantees and legal services for local economic and social development.
Requirements & Solution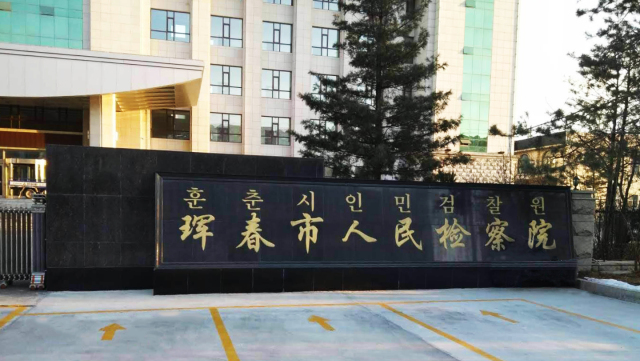 In order to promote the informatization construction of the Procuratorate and build a first-class efficient and intelligent office environment, ITC specially designed a set of solutions for People's Procuratorate of Hunchun City including paperless conference system, digital conference system, amplifying system, central control system, matrix system and conference recording and broadcasting system.
System Description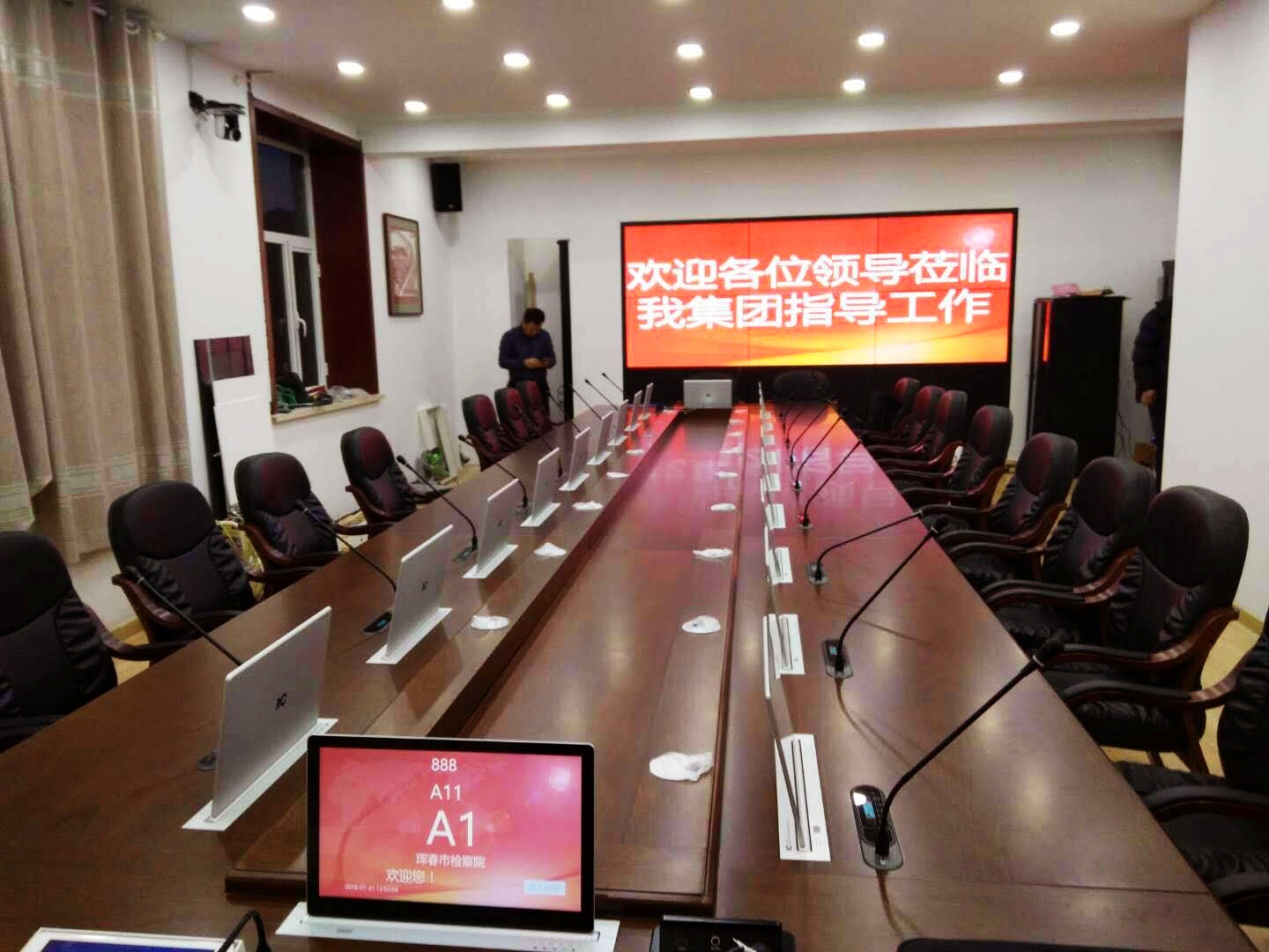 1. Paperless conference system: According to the layout of the conference room, a paperless ultra-thin capacitive LCD integrated lifter is designed for each seat in the conference room, with a multimedia terminal host. At the same time, a paperless control host is designed as the management and control center of the system. The paperless conference terminal is connected with the paperless control host through the network to form a complete set of intelligent interactive paperless conference system. So as to achieve the conference information upload, file distribution, reading review, document annotations, conference attendance, voting, electronic whiteboard, interactive file transfer, video interactive transmission, conference exchange, information notification, conference services, information records,etc.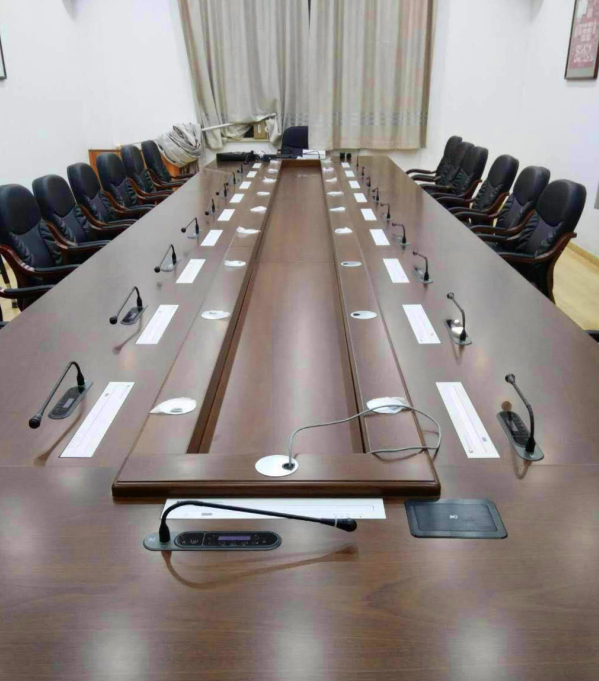 2. Digital conference system: The system is connected by hand in hand, and the speaking unit is installed by portable hand in hand. This system is beautiful in appearance, flexible in installation, very convenient to use, and little amount of wiring, without affecting the overall decoration layout. The digital conference system can be connected to the venue sound amplification and recording equipment; it can set the camera to automatically track and realize the linkage function; it can be combined with the ITC control system to create a perfect conference system solution.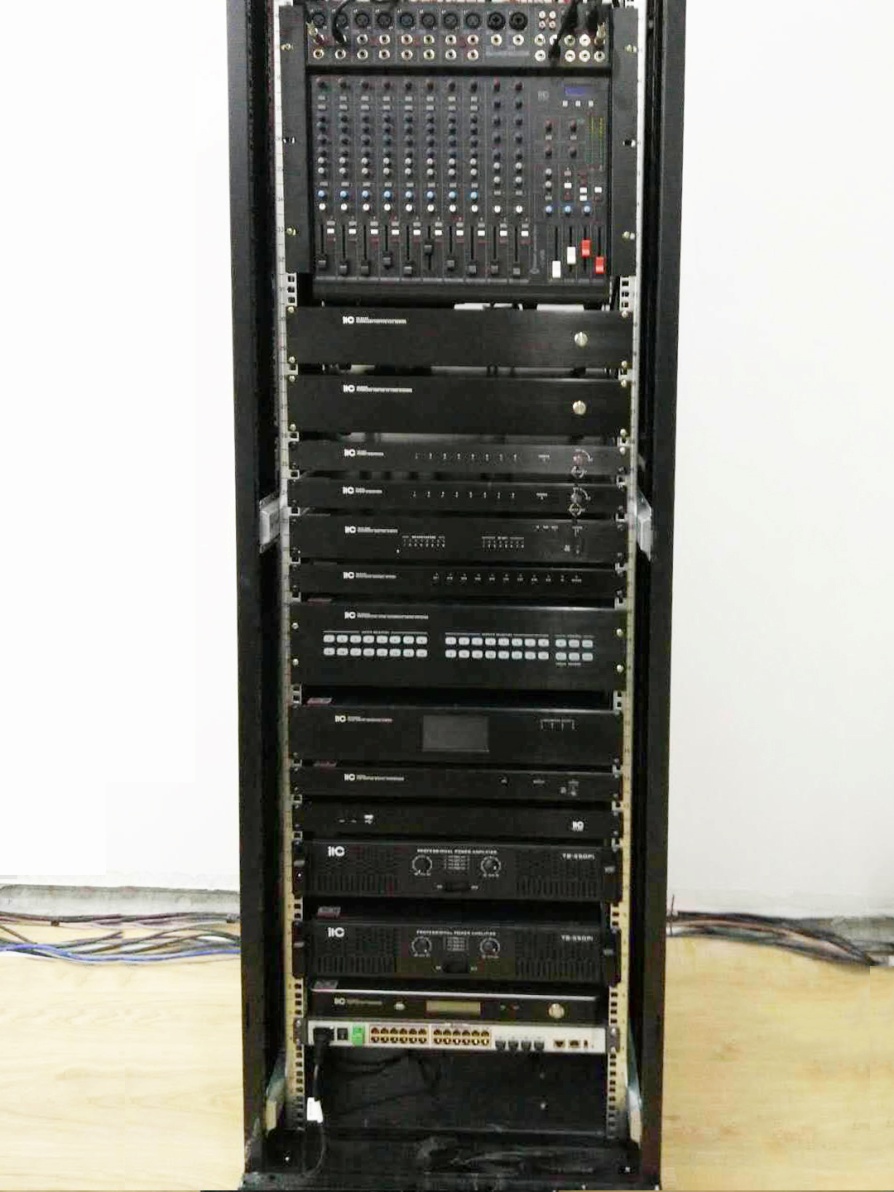 3.Central control system: The system can meet the real-time switching scheduling of conference room audio and video, the central control system adopts wireless touch screen for operation. The central control host and wireless touch screens are used to edit the running control program according to the conference room time usage, and downloaded it to the central control host and the wireless touch screen for control operation. Under the control of wireless touch screen, it can achieve real-time control of audio and video switching, solve complicated operation, and easily control the operation of various system controlled equipment in the conference room.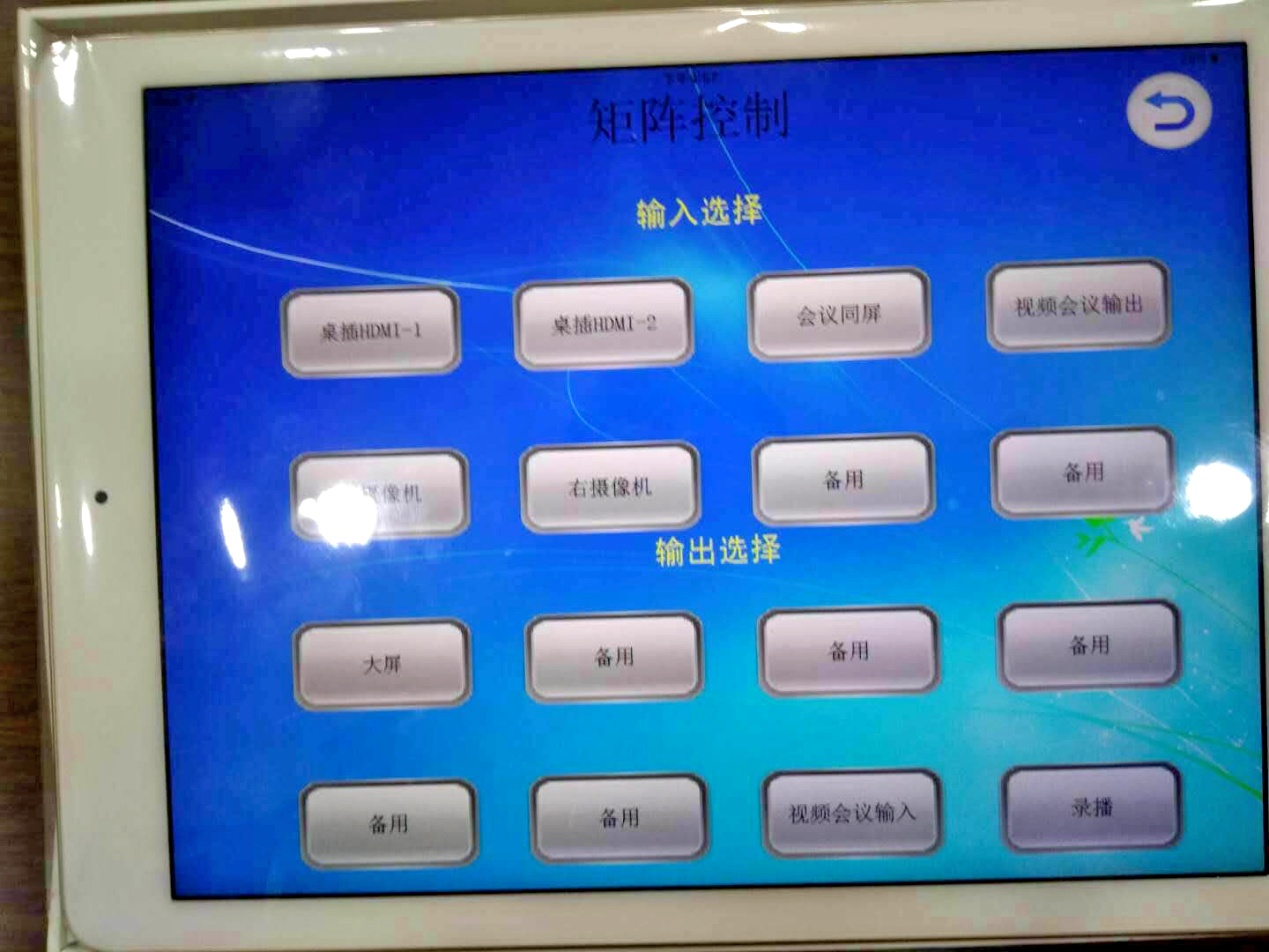 4. Matrix system: The system can meet the needs of different presentation occasions. It allows free signal switching between multiple audio and video signal sources and multiple display devices in different occasions. Such as multimedia plug, DVD, conference camera, TV set-top box, etc.; display terminals such as projectors, LCD TVs, LED full-color screen, LCD splicing screen, touch all-in-one machine, etc.
5. Conference recording and broadcasting system: The on-site recording and broadcasting system is a full-HD recording and broadcasting system developed for the needs of audio and video recording, management and distribution of remote video, multi-functional conferences, conference training, and digital courtrooms,etc. The full-HD recording and broadcasting system adopts embedded integrated design and with a set of professional recording equipment.integrates high-definition video encoding, recording, on-demand, live broadcasting, guided broadcasting, and recording and broadcasting platforms.
Customer Feedback

1. User s generally responds well to the system which has simple operation, is easy to understand, and has excellent sound quality.
2. The paperless conference system is very convenient for conferences, so there is no need to print and copy a lot of materials, and everyone can watch the meeting information in real time on the screen in front of them.
3. The conference system has clear sound quality and first-rate effect, which satisfies all kinds of conference sound amplification activities with simple operation and humanization .
4. The central control system is easy to operate and easy to control all kinds of equipment switches .
5. The signal switching of matrix system is convenient, and the conversion between signals can be easily realized.
6. The conference recording and broadcasting system has a clear picture and can record the conference content, so as to facilitate learning and circulation at all levels.