The MINICC system is a small and medium-sized intelligent conference system solution that integrates audio matrix, video matrix, central control system, mixer, wireless management and control, etc. It can generally be applied to small meeting rooms, small training rooms and small lecture halls.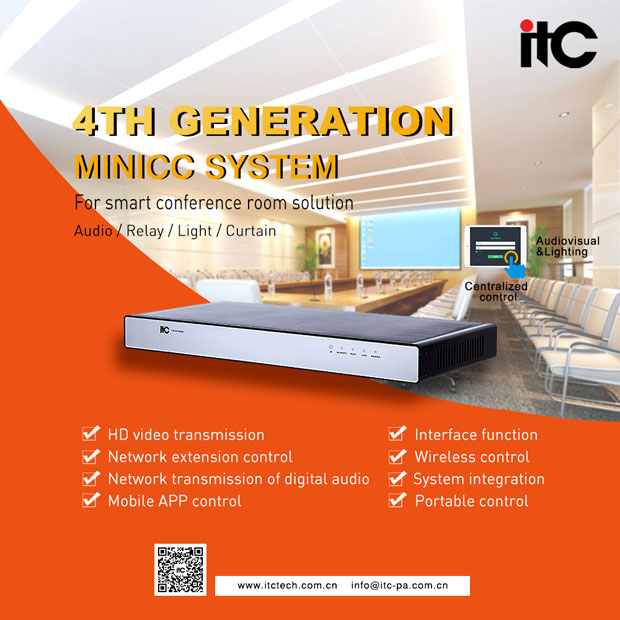 4th Gerneration MINICC System with eight other major functions
1. HD video transimission
2. Network extension control
3. Network transmission of digital audio
4. Mobile APP control
5. Interface function
6. Wireless control
7. System integration
8. Portable control
Comparison between traditional conference and MINI CC system conference
| | |
| --- | --- |
| Traditional meeting room construction | ITC MINI CC |
| Multiple devices need to be matched together to realize the switching operation of sound and light in the meeting room; if you want to realize remote control, you need intelligent central control equipment; the table plug requires audio and video signals to be controlled by a special matrix; lighting control and curtain control rely on central control equipment. | One host realizes all-round control of sound and light television; highly integrated integrated design; simple operation, greatly improving meeting efficiency; simple wiring method, reducing construction and maintenance costs. |
| Need special central control equipment | With cloud conference system, efficient and convenient |
| Matched with multiple machines, occupied a large space | Support mobile internet control |
| The wiring is complicated and there is a certain amount of construction | Support wireless control, no need to repeat wiring |
| Non-embedded architecture | Embedded architecture, high-performance DSP module |
MINICC System is ITC new product for meeting room. High technology, multy-functions. Compare the traditional conference system design, it is more convient and functions, can meet for the requirements.
Applications
| | |
| --- | --- |
| | |
| Small Meeting Room | Large Lecture Hall |
More details pls visit: #minicc